It's that time of year again when all of our favourite celebrity fashionistas come out in full storm to present their choice of attire for the glamorous Golden Globes award ceremony. The pressure to look amazing must be immense because ultimately – it IS a competition. This year, it's obvious who worked well under pressure and who crashed and burned. Here's the good, the not so good, and the outright ugly. Enjoy!
The Good: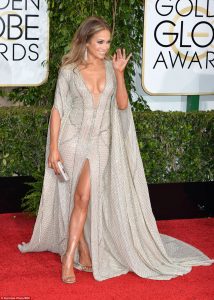 Jennifer Lopez stunned the world in a grecian style Zuhair Murad dress this year. This 45 year old pop queen showed that she definitely still has IT. I don't know what IT is. But she has it! This long-sleeved, deep v-neckline gown was embellished head-to-toe and J-Lo herself said that it was so heavy, it was giving her a workout right there on the red carpet! You'd never tell, she pulled it off effortlessly.
Sienna Miller wore a beautiful Miu Miu dress equipped with a deep V-neckline, a mesh back and the perfect amount of embellishment.  Even with a lot of skin showing, Sienna looked very elegant and was most definitely one of the best dressed on the night.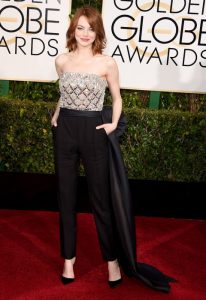 Emma Stone decided to opt for a unique Lanvin jumpsuit for the Golden Globes this year. She stood out for all the right  reasons and looked simply flawless. Effortlessly chic!
The not so good: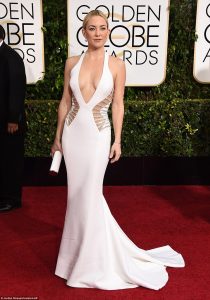 Kate Hudson is known as one of Hollywood's most naturally stylish women so the fact that she looked like a figure skater didn't do her any favours.  Of course, she looks amazing! She could wear a bin bag and still look amazing – but this ensemble was a let-down.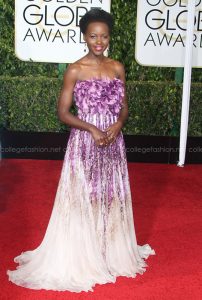 Lupita Nyongo was one of 2014's newly-acclaimed style icons but I'm thinking that if she continues to wear anything similar to this Giambattista Valli dress, that title will be quickly taken away from her! She has rang in the new year with an utterly disappointing dress after all of her A-class Golden Globes gown last year. Three words for this one – frumpy purple flower.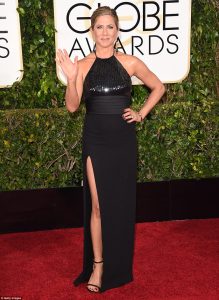 Jennifer Aniston is in the not so good books this year too. Not that she looked bad in any way whatsoever – but she most definitely played it safe. In fact, she's played it safe in plain black dresses for the past few years. I'm onto you Jen!
The ugly:

Lana DelRay is number one on the ugly-outfit list this year. She looked more like the Little mermaid at a parade in Disneyland than a fashionista on the red carpet. This Travilla gown couldn't look more 'Under-the-sea'!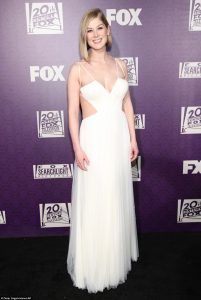 Rosamund Pike sported a floor-length white Vera Wang gown – with cutouts in all the wrong places. The 'Gone Girl' star showed off her post-baby body after giving birth just five months ago – wow! It's therefore such a shame the dress looked like it was about to fall off! Fair play to her going so daring and showing off her fabulous figure in such a revealing gown but shame on the designer for letting her wear it so ill-fitting! She said her five-month old son seemed to approve of the gown – but I definitely don't!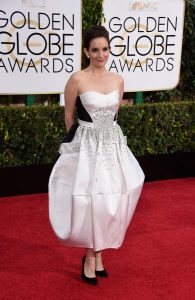 Tina Fey who has co-hosted the Golden Globes for the past three years obviously put all her hard work into presenting, and not her outfit. Her black and white bubble-skirt dress ultimately made her look like a pear!
Who was your favourite – for all the right reasons, and the wrong? Here's a gallery of all the dresses from the Golden Globes below. My verdict… Roll on the Oscars!
AS x