Titanium..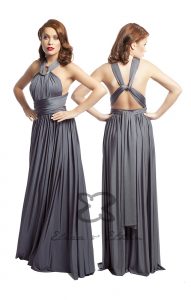 The multiwrap Eliza & Ethan dress in Titanium is a metallic grey gown. This multiwrap dress is the perfect contrast gown to have your bridesmaids wear without opting for a completely black dress – almost direct opposite colour of your wedding dress! Your bridesmaids will love the versatility of this Eliza & Ethan dress because it can be tied in numerous ways to suit every unique style or body shape.
As well as having your bridesmaids looking like metallic models in this Titanium gown, here's some other ways to make Titanium a perfect addition to your colour scheme!
The Flowers
Metallic grey flowers are hard to find but here are some ways to  fake them!
As dark metallic grey is such a deep monochrome colour, it is the perfect platform to add brighter and warmer colours to any aspect of your theme including your bouquet such as the one above.

This beautiful bouquet doesn't contain flowers at all! Using different materials you can fold, mold or knit them to form a unique bouquet for your special day.

Similar to spraying flowers – buds sprayed grey are a beautiful addition to a pale grey tonal bouquet to tie in your titanium coloured bridesmaid dresses
The Cake
If a full charcoal cake doesn't tickle your fancy, go down a few tones and opt for a light grey one like the first picture below. Because charcoal is such a deep grey it is very easy to add splashes of colour to your cake with the detailed work such as sugar flowers or ribbons!
Decor DIY:

Why not ask your wedding guests to write down an activity or adventure on your DIY Bucket List board. A great way to allow your guests to feel like they have a role in your wedding day and the rest of your life together.
How to tie:
 Finally, here is our tutorial video on how to tie your Eliza & Ethan dresses as pictured.
Don't forget if you had Eliza & Ethan for your wedding we'd love to see your pictures! Share with us on Facebook, Instragram, Twitter or email us: gals@alila.ie
…A x