Daffodil Dolls.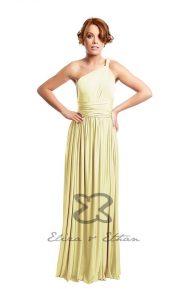 The multiwrap Eliza & Ethan dress in Daffodil is one of our new pastel shades of the gown. This dress really fits in with a rustic, pastel wedding or can be mixed with other contrasting colours for a more modern feel. Your bridesmaids will love the versatility of this Eliza & Ethan dress because it can be tied in numerous ways to suit every unique style or body shape.
As well as having your bridesmaids looking like dainty flowers in this Daffodil dress, here are some other ways to make Daffodil a perfect addition to your colour scheme!
The Flowers
Tie your Daffodil bouquet with a contrasting blue or purple ribbon. Brings out the boldness of the bouquet!

Play down the yellow with more white or cream flowers such as peonies or roses.

What could fit the theme more than a bouquet of actual daffodils?
The Cake
Our favourite dainty Daffodil cakes. They look delicious and definitely keep with the theme!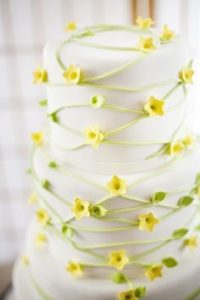 Decor DIY:
 

Honestly don't think there could be a more simple DIY wedding decoration that adds so much colour to the table. Grab some coloured paper, scissors and a pen. Voila! Place cards.
How to tie:
 Finally, here is our tutorial video on how to tie your Eliza & Ethan dresses as pictured.
Don't forget if you had Eliza & Ethan for your wedding we'd love to see your pictures! Share with us on Facebook, Instragram, Twitter or email us: gals@alila.ie
…A x